Over the years La Jolla has seen many of its residents achieve national recognition philanthropically, politically, culturally, and through the entertaining arts. Arguably leading the pack was favorite son known to his neighbors as Ted Geisel, but to the world as Dr. Seuss.  Geisel had a serendipitous career before landing in La Jolla after WWII where he returned to writing children's books and engaged in a public service leadership role as a co-founder of the La Jolla Town Council, and where his influence is still being felt today. His disdain for public-littering sidewalk a-frame sign advertisements ranging from real estate open houses to merchant daily specials ran deep; that community battle continues today. Ted's first wife's social life impacted his, as well. Because of his notoriety the couple received continuous invitations to a steady stream of fund-raising dinners and special events, most of which ran counter to his preference. He would rather spend his off-time at the La Valencia Whaling Bar with his drinking author buddy Raymond Chandler. His general feeling about La Jolla's duplicitous social climbers was reflected in his books Horton Hears a Who and How the Grinch Stole Christmas: the Who's were those folks and Whoville was La Jolla.  When you visit La Jolla, be sure to visit the Legends Gallery on Prospect St. where you'll find a collection of his iconic artwork and character sculptures.  
And now, for the rest of his story: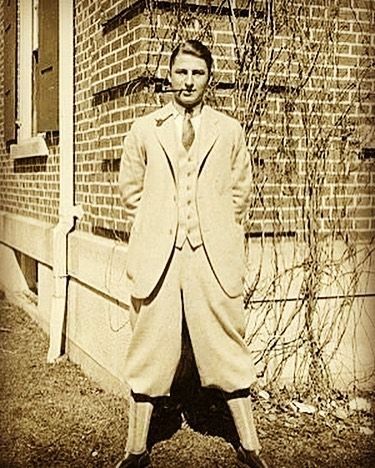 Geisel was born and raised in Springfield, Massachusetts, the son of Henrietta (née Seuss) and Theodor Robert Geisel. His father managed the family brewery and was later appointed to supervise Springfield's public park system by Mayor John A. Denisonafter the brewery closed because of Prohibition.  Mulberry Street in Springfield, made famous in his first children's book And to Think That I Saw It on Mulberry Street, is near his boyhood home on Fairfield Street.     
Geisel attended Dartmouth College, graduating in 1925.  At Dartmouth, he joined the Sigma Phi Epsilon fraternity  and the humor magazine Dartmouth Jack-O-Lantern, eventually rising to the rank of editor-in-chief.  While at Dartmouth, he was caught drinking gin with nine friends in his room. At the time, the possession and consumption of alcohol was illegal under Prohibition laws, which remained in place between 1920 and 1933. As a result of this infraction, Dean Craven Laycock insisted that Geisel resign from all extracurricular activities, including the Jack-O-Lantern.  To continue working on the magazine without the administration's knowledge, Geisel began signing his work with the pen name "Seuss". He was encouraged in his writing by professor of rhetoric W. Benfield Pressey, whom he described as his "big inspiration for writing" at Dartmouth   
Upon graduating from Dartmouth, he entered Lincoln College, Oxford, intending to earn a Doctor of Philosophy (Ph.D.) in English literature.  At Oxford, he met his future wife Helen Palmer, who encouraged him to give up becoming an English teacher in favor of pursuing drawing as a career.  She later recalled that "Ted's notebooks were always filled with these fabulous animals. So I set to work diverting him; here was a man who could draw such pictures; he should be earning a living doing that."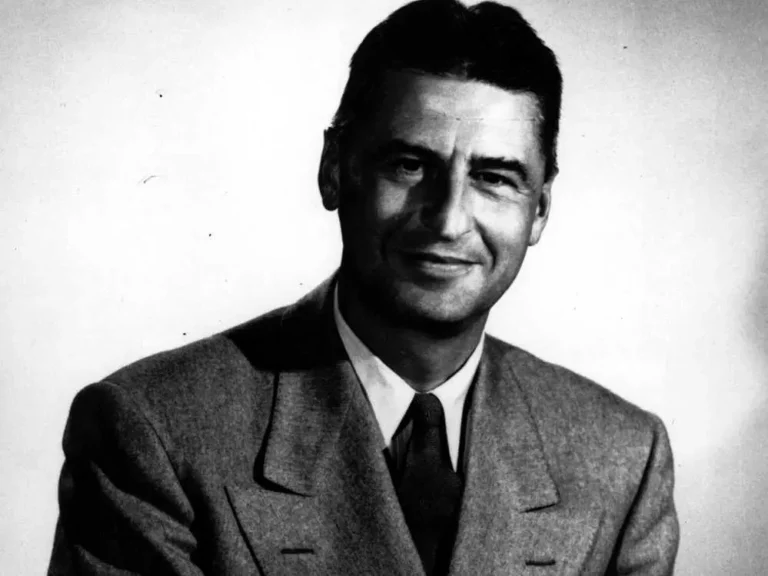 Geisel left Oxford without earning a degree and returned to the United States in February 1927,  where he immediately began submitting writings and drawings to magazines, book publishers, and advertising agencies.  Making use of his time in Europe, he pitched a series of cartoons called Eminent Europeans to Life magazine, but the magazine passed on it. His first nationally published cartoon appeared in the July 16, 1927, issue of The Saturday Evening Post. This single $25 sale encouraged Geisel to move from Springfield to New York City.  Later that year, Geisel accepted a job as writer and illustrator at the humor magazine Judge, and he felt financially stable enough to marry Palmer.  His first cartoon for Judge appeared on October 22, 1927, and Geisel and Palmer were married on November 29. Geisel's first work signed "Dr. Seuss" was published in Judge about six months after he started working there.
In early 1928, one of Geisel's cartoons for Judge mentioned Flit, a common bug spray at the time manufactured by Standard Oil of New Jersey. According to Geisel, the wife of an advertising executive in charge of advertising Flit saw Geisel's cartoon at a hairdresser's and urged her husband to sign him.  Geisel's first Flit ad appeared on May 31, 1928, and the campaign continued sporadically until 1941. The campaign's catchphrase "Quick, Henry, the Flit!" became a part of popular culture. It spawned a song and was used as a punch line for comedians such as Fred Allen and Jack Benny. As Geisel gained notoriety for the Flit campaign, his work was in demand and began to appear regularly in magazines such as Life, Liberty, and Vanity Fair.   
The money Geisel earned from his advertising work and magazine submissions made him wealthier than even his most successful Dartmouth classmates.  The increased income allowed the Geisels to move to better quarters and to socialize in higher social circles.  They became friends with the wealthy family of banker Frank A. Vanderlip. They also traveled extensively: by 1936, Geisel and his wife had visited 30 countries together. They did not have children, neither kept regular office hours, and they had ample money. Geisel also felt that traveling helped his creativity.
Geisel's success with the Flit campaign led to more advertising work, including for other Standard Oil products like Essomarine boat fuel and Essolube Motor Oil and for other companies like the Ford Motor Company, NBC Radio Network, and Holly Sugar.  His first foray into books, Boners, a collection of children's sayings that he illustrated, was published by Viking Press in 1931. It topped The New York Times non-fiction bestseller list and led to a sequel, More Boners, published the same year. Encouraged by the books' sales and positive critical reception, Geisel wrote and illustrated an ABC book featuring "very strange animals" that failed to interest publishers. 
In 1936, Geisel and his wife were returning from an ocean voyage to Europe when the rhythm of the ship's engines inspired the poem that became his first children's book: And to Think That I Saw It on Mulberry Street.  Based on Geisel's varied accounts, the book was rejected by between 20 and 43 publishers.  According to Geisel, he was walking home to burn the manuscript when a chance encounter with an old Dartmouth classmate led to its publication by Vanguard Press.  Geisel wrote four more books before the US entered World War II. This included The 500 Hats of Bartholomew Cubbins in 1938, as well as The King's Stilts and The Seven Lady Godivas in 1939, all of which were in prose, atypically for him. This was followed by Horton Hatches the Egg in 1940, in which Geisel returned to the use of verse.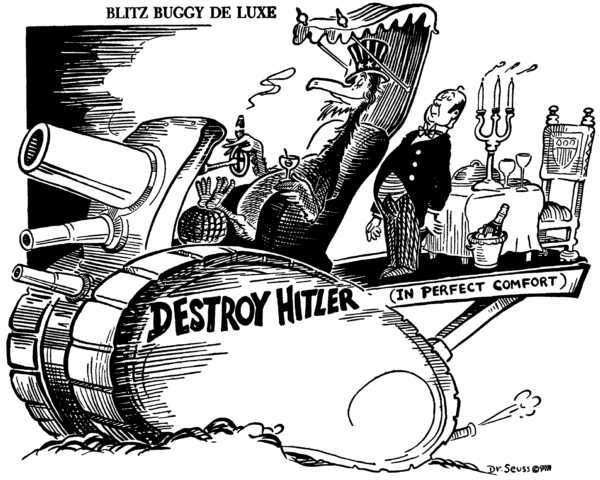 As World War II began, Geisel turned to political cartoons, drawing over 400 in two years as editorial cartoonist for the left-leaning New York City daily newspaper, PM.  Geisel's political cartoons, later published in Dr. Seuss Goes to War, denounced Hitler and Mussolini and were highly critical of non-interventionists ("isolationists"), most notably Charles Lindbergh, who opposed US entry into the war.  One cartoon  depicted Japanese Americans being handed TNT in anticipation of a "signal from home", while other cartoons deplored the racism at home against Jews and blacks that harmed the war effort.  His cartoons were strongly supportive of President Roosevelt's handling of the war, combining the usual exhortations to ration and contribute to the war effort with frequent attacks on Congress (especially the Republican Party),  parts of the press (such as the New York Daily News, Chicago Tribune, and Washington Times-Herald), and others for criticism of Roosevelt, criticism of aid to the Soviet Union,  investigation of suspected Communists,  and other offences that he depicted as leading to disunity and helping the Nazis, intentionally or inadvertently.  
In 1942, Geisel turned his energies to direct support of the U.S. war effort. First, he worked drawing posters for the Treasury Department and the War Production Board. Then, in 1943, he joined the Army as a captain and was commander of the Animation Department of the First Motion Picture Unit of the United States Army Air Forces, where he wrote films that included Your Job in Germany, a 1945 propaganda film about peace in Europe after World War II; Our Job in Japan; and the Private Snafu series of adult army training films. While in the Army, he was awarded the Legion of Merit.  Our Job in Japan became the basis for the commercially released film Design for Death (1947), a study of Japanese culture that won the Academy Award for Best Documentary Feature. Gerald McBoing-Boing (1950) was based on an original story by Seuss and won the Academy Award for Best Animated Short Film.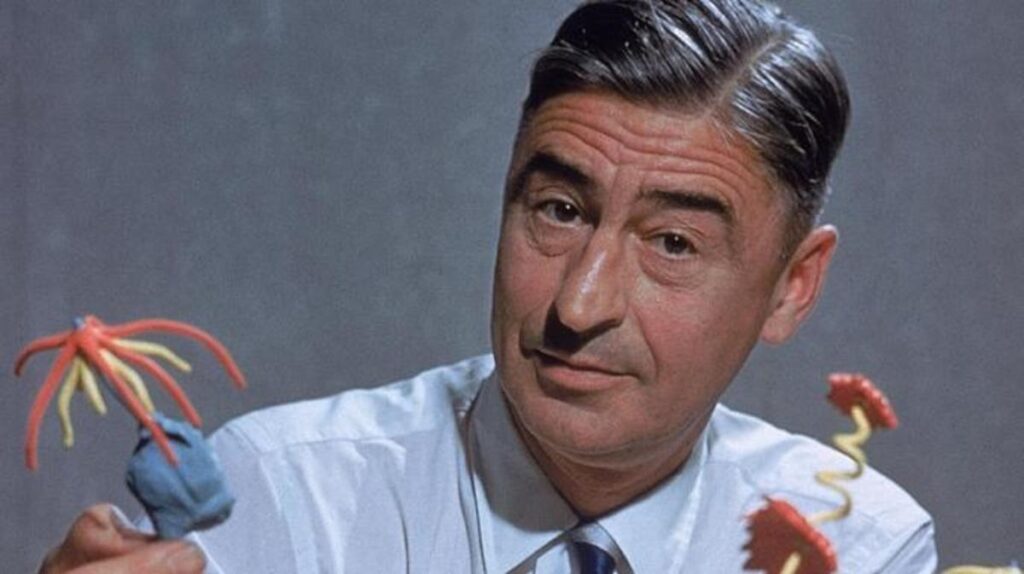 After the war, Geisel and his wife moved to the La Jolla community of San Diego, California, where he returned to writing children's books. He published most of his books through Random House in North America and William Collins, Sons (later HarperCollins) internationally. He wrote many, including such favorites as If I Ran the Zoo (1950), Horton Hears a Who! (1955), If I Ran the Circus (1956), The Cat in the Hat (1957), How the Grinch Stole Christmas! (1957), and Green Eggs and Ham (1960). He received numerous awards throughout his career, but he won neither the Caldecott Medal nor the Newbery Medal. Three of his titles from this period were, however, chosen as Caldecott runners-up (now referred to as Caldecott Honor books): McElligot's Pool (1947), Bartholomew and the Oobleck (1949), and If I Ran the Zoo (1950). Dr. Seuss also wrote the musical and fantasy film The 5,000 Fingers of Dr. T., which was released in 1953. The movie was a critical and financial failure, and Geisel never attempted another feature film. During the 1950s, he also published a number of illustrated short stories, mostly in Redbook magazine. Some of these were later collected (in volumes such as The Sneetches and Other Stories) or reworked into independent books (If I Ran the Zoo). A number have never been reprinted since their original appearances.  
In May 1954, Life published a report on illiteracy among school children which concluded that children were not learning to read because their books were boring. William Ellsworth Spaulding was the director of the education division at Houghton Mifflin (he later became its chairman), and he compiled a list of 348 words that he felt were important for first-graders to recognize. He asked Geisel to cut the list to 250 words and to write a book using only those words.  Spaulding challenged Geisel to "bring back a book children can't put down". Nine months later, Geisel completed The Cat in the Hat, using 236 of the words given to him. It retained the drawing style, verse rhythms, and all the imaginative power of Geisel's earlier works but, because of its simplified vocabulary, it could be read by beginning readers. The Cat in the Hat and subsequent books written for young children achieved significant international success and they remain very popular today. For example, in 2009, Green Eggs and Ham sold 540,000 copies, The Cat in the Hat sold 452,000 copies, and One Fish, Two Fish, Red Fish, Blue Fish (1960) sold 409,000 copies—all outselling the majority of newly published children's books.
Geisel went on to write many other children's books, both in his new simplified-vocabulary manner (sold as Beginner Books) and in his older, more elaborate style.  
In 1955, Dartmouth awarded Geisel an honorary doctorate of Humane Letters, with the citation:  
Creator and fancier of fanciful beasts, your affinity for flying elephants and man-eating mosquitoes makes us rejoice you were not around to be Director of Admissions on Mr. Noah's ark. But our rejoicing in your career is far more positive: as author and artist you singlehandedly have stood as St. George between a generation of exhausted parents and the demon dragon of unexhausted children on a rainy day. There was an inimitable wriggle in your work long before you became a producer of motion pictures and animated cartoons and, as always with the best of humor, behind the fun there has been intelligence, kindness, and a feel for humankind. An Academy Award winner and holder of the Legion of Merit for war film work, you have stood these many years in the academic shadow of your learned friend Dr. Seuss; and because we are sure the time has come when the good doctor would want you to walk by his side as a full equal and because your College delights to acknowledge the distinction of a loyal son, Dartmouth confers on you her Doctorate of Humane Letters. 
Geisel joked that he would now have to sign "Dr. Dr. Seuss". His wife was ill at the time, so he delayed accepting it until June 1956.   
On April 28, 1958, Geisel appeared on an episode of the panel game show To Tell the Truth. 
Geisel's wife Helen had a long struggle with illnesses. On October 23, 1967, Helen died by suicide; Geisel married his secretary Audrey Dimond on June 21, 1968.  Although he devoted most of his life to writing children's books, Geisel had no children of his own, saying of children: "You have 'em; I'll entertain 'em."  Dimond added that Geisel "lived his whole life without children and he was very happy without children." Audrey oversaw Geisel's estate until her death on December 19, 2018, at the age of 97.   
Geisel was awarded an honorary doctorate of Humane Letters (L.H.D.) from Whittier College in 1980.  He also received the Laura Ingalls Wilder Medal from the professional children's librarians in 1980, recognizing his "substantial and lasting contributions to children's literature". At the time, it was awarded every five years. He won a special Pulitzer Prize in 1984 citing his "contribution over nearly half a century to the education and enjoyment of America's children and their parents".  
Illness, death, and posthumous honors
Geisel died of cancer on September 24, 1991, at his home in the La Jolla community of San Diego at the age of 87.  His ashes were scattered in the Pacific Ocean. On December 1, 1995, four years after his death, University of California, San Diego's University Library Building was renamed Geisel Library in honor of Geisel and Audrey for the generous contributions that they made to the library and their devotion to improving literacy   
While Geisel was living in La Jolla, the United States Postal Service and others frequently confused him with fellow La Jolla resident Dr. Hans Suess, a noted nuclear physicist.   
In 2002, the Dr. Seuss National Memorial Sculpture Garden opened in Springfield, Massachusetts, featuring sculptures of Geisel and of many of his characters.  
In 2017, the Amazing World of Dr. Seuss Museum opened next to the Dr. Seuss National Memorial Sculpture Garden in the Springfield Museums Quadrangle.  
In 2008, Dr. Seuss was inducted into the California Hall of Fame. On March 2, 2009, the Web search engine Google temporarily changed its logo to commemorate Geisel's birthday (a practice that it often performs for various holidays and events).  
In 2004, U.S. children's librarians established the annual Theodor Seuss Geisel Award to recognize "the most distinguished American book for beginning readers published in English in the United States during the preceding year". It should "demonstrate creativity and imagination to engage children in reading" from pre-kindergarten to second grade.   
At Geisel's alma mater of Dartmouth, more than 90 percent of incoming first-year students participate in pre-matriculation trips run by the Dartmouth Outing Club into the New Hampshire wilderness. It is traditional for students returning from the trips to stay overnight at Dartmouth's Moosilauke Ravine Lodge, where they are served green eggs for breakfast. On April 4, 2012, the Dartmouth Medical School was renamed the Audrey and Theodor Geisel School of Medicine in honor of their many years of generosity to the college.   
Dr. Seuss's honors include two Academy Awards, two Emmy Awards, a Peabody Award, the Laura Ingalls Wilder Medal, the Inkpot Award  and the Pulitzer Prize.  
Dr. Seuss has a star on the Hollywood Walk of Fame at the 6500 block of Hollywood Boulevard. 
Dr. Seuss has been in Forbes' list of the world's highest-paid dead celebrities every year since 2001, when the list was first published.