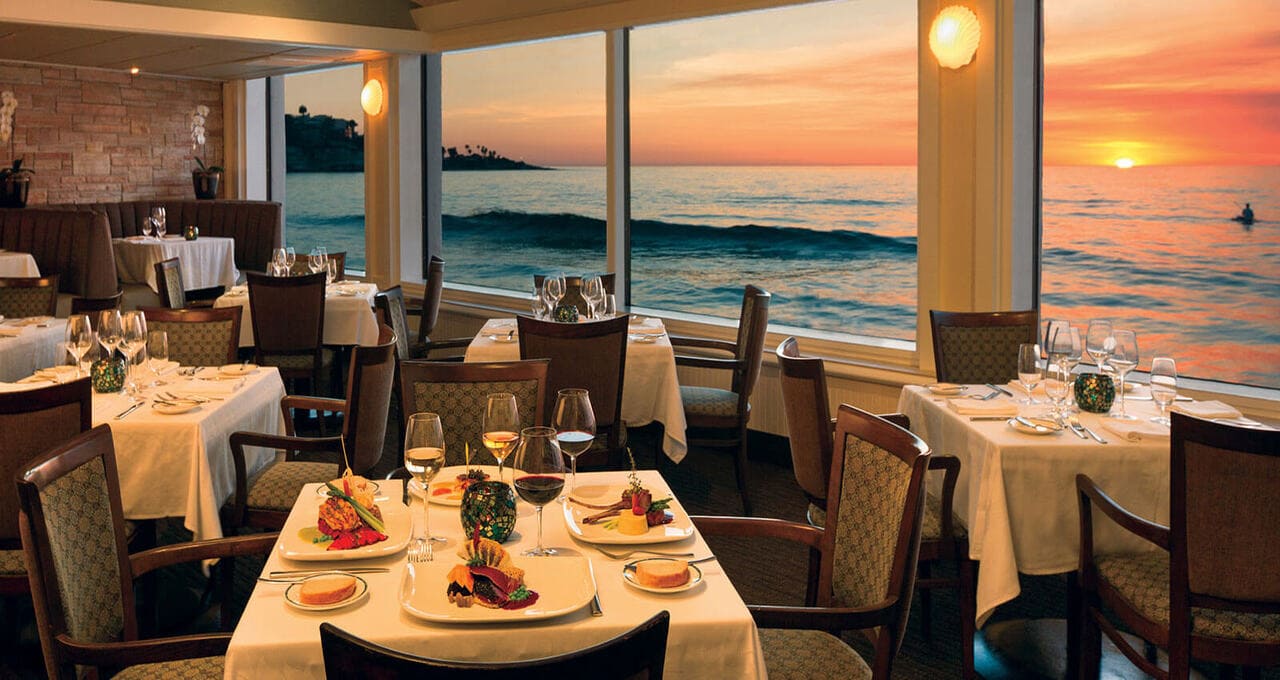 For over 80 years, the "Seahorse" symbol of The Marine Room has long stood for its dramatic on-the-surf location and California coastal cuisine by Executive Chef Mike Minor and his team. Opened in 1941, The Marine Room quickly became famous as the wintertime pounding surf frequently created dramatic displays against the restaurant's windows. All Insiders love to ponder the black and white framed photos lining the walls of the restaurant picturing a swamped dining room when those same crashing waves traveled across the wide beach and smashed through the sea-facing windows during an epic January King Tide. Having water at your table is fine as long as it's being poured by a waiter. For more than half a century, celebrities, world figures, residents, and visitors have enjoyed the spectacular panoramic views of the Pacific and exceptional cuisine. The folks at the upscale Marine Room favor more of a business casual dress by their patrons; flip-flops and cargo shorts are discouraged. The MR is an iconic dining destination for a great meal and the rare opportunity for a tidal experience, within reason. 
 Oh, yes, the windows have been reinforced to bathysphere strength.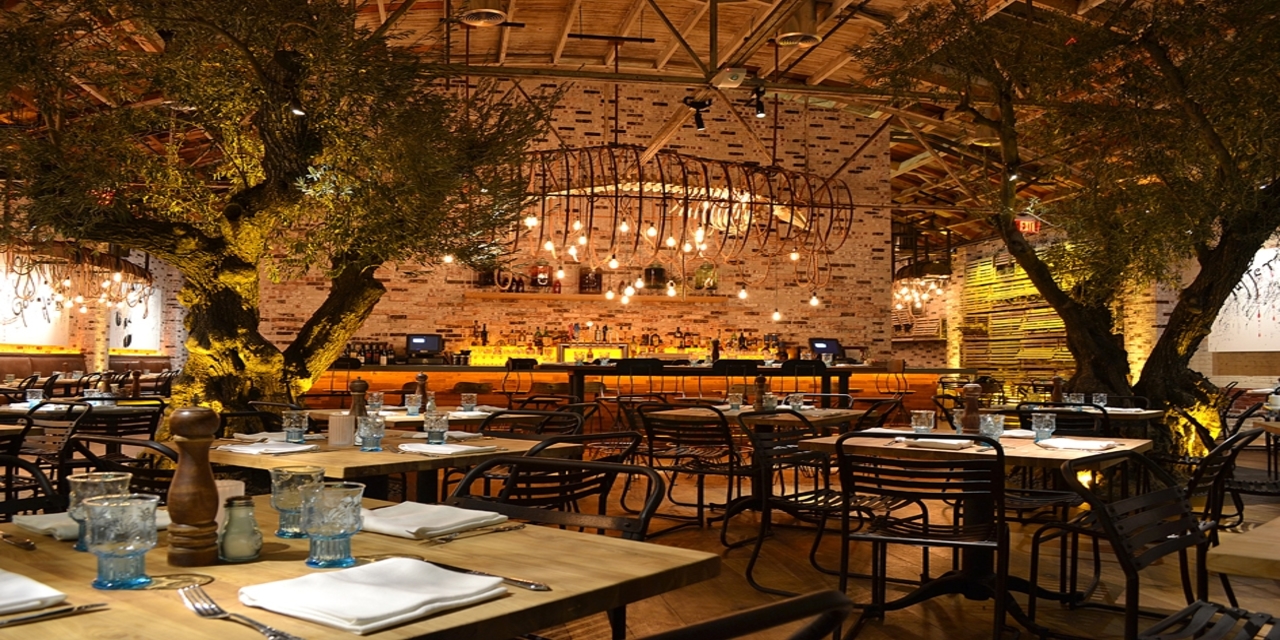 La Jolla Insiders remember that what was once a car show room in the 60s that sat empty on Herschel Avenue for decades simply because of the refusal of an aging Rancho Santa Fe matron to sell, for whatever personal reasons, eventually becoming a crumbling stucco property; a curiosity to most, invisible to other passersby until purchased by a persistent chef and transformed into one of the most popular, hip dining experiences in La Jolla. Herringbone features a California coastal cuisine with an emphasis on line-caught seafood and high-quality meats. Filled with a sense of nautical whimsy, Herringbone's innovative design (most restaurants go for flowers on your table; Herringbone uniquely features several 100-year old-growth olive trees in the dining room) creates a uniquely fresh, contemporary nod to the easy side of Southern California beach living.  
Several years ago, when the Moroccan restaurant across the street from what was then a small fresh fish market with a fish display counter, scales and a couple of tables, sharing a mini-mall with a surf shop and other fast food restaurants, closed and became available, the fish market owners grabbed it and moved their large client base into a totally renovated building externally and internally, along with their legendary fresh-caught seafood menu. 
La Jolla Insiders love a good fish tale
El Pescador first opened its doors in Del Mar, a coastal community north of La Jolla, in July of 1974. A young ambitious nineteen-year old surfer named Jeff Norris bought some refrigeration equipment for less than a thousand dollars. He recruited sixteen-year old Jim Mahoney and together they hand- crafted a display case out of wood and fiberglass and began selling fresh seafood to the once small town. We Insiders salute their entrepreneurial spirit. But, wait, there's more.
Within twelve months retail fish sales were booming, but the public demanded more than just raw seafood. Eventually, Norris served El Pescador's first prepared food: a shrimp cocktail and lemonade for $1.00. By the end of 1976 Norris had a complete seafood deli to accompany his thriving fresh fish market. In March of 1978, sixteen-year old Sean Shannon traded his paper route for his first real job, as "El Pescador-clean-up-kid".
In 1985 Sean opened his own La Jolla store on Pearl Street in the aforementioned strip mall, keeping the name El Pescador. Since moving the restaurant across the street the menu has increased with an array of char-grilled and sauteed seafood items along with the square footage. El Pescador features the finest seafood in an atmosphere that is relaxed and casual yet stylish enough to feel like a night out on the town.
Nine-Ten Restaurant and Bar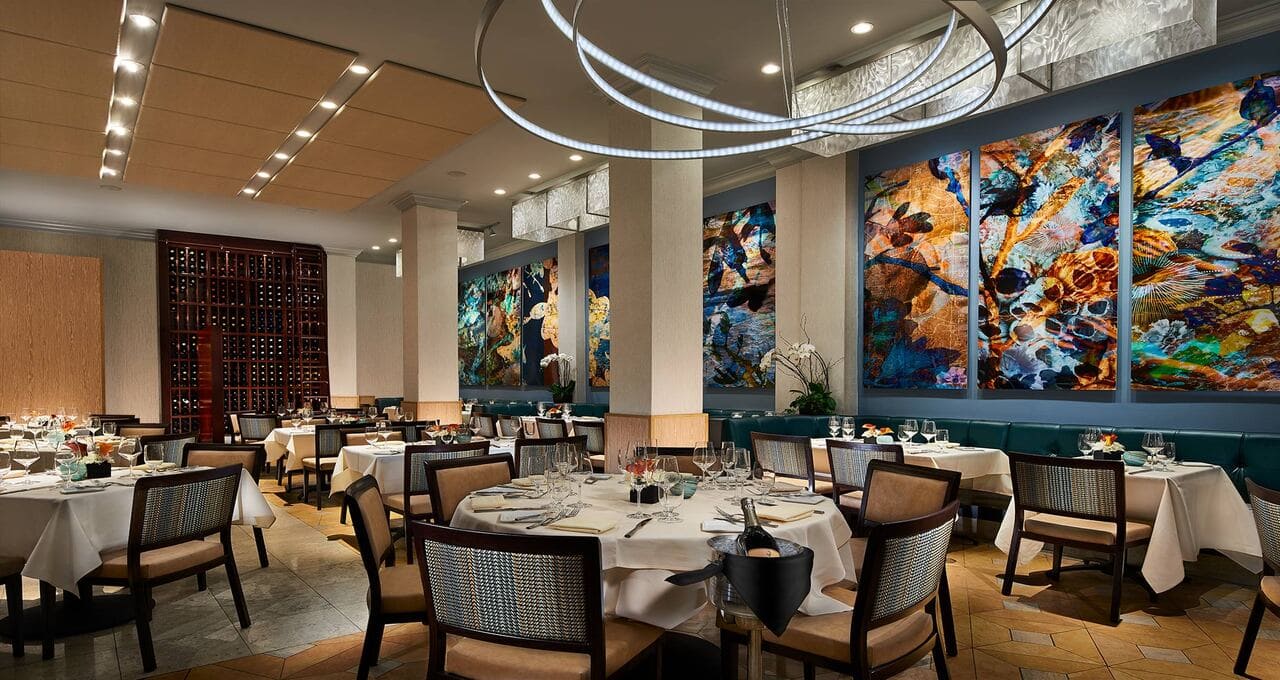 The food at Nine-Ten (the number of their Prospect St. address) is so fresh you'll want to slap it. The up-scale two-decades old dining room on the main floor of the thrice-remodeled Grande Colonial, a La Jolla legacy hotel established in 1913, is a farm-to table-foodies' dream. Award-winning Executive Chef Jason Knibb cooks to the season dictated by the local harvest, insisting on the freshest product each day from nationally acclaimed local providers like Chino Farms and others of their caliber.
You can people watch from your patio table as pedestrians file by on the sidewalk while enjoying fresh from the oven house-made sourdough bread slathered with salted butter, then perhaps choices from their menu of fresh Pacific and Atlantic catches, or a simple meal of fluffy blueberry lemon buttermilk pancakes. Although the offerings change with the season there are patron favorites that are always available like the hamachi sashimi and Jamaican jerk pork belly. Chef Knibb believes that "the cacao pepe will still be on the menu ten years from now." The excellent cuisine and the wine list have earned a Michelin Guide award for distinguished plate and the Wine Spectator's Award of Excellence. (Have a look at the La Jolla Grande Colonial Hotel entry on the Insiders Ten Best Hotel page listings for a fascinating history of the hotel itself, including Nine-Ten's origin.)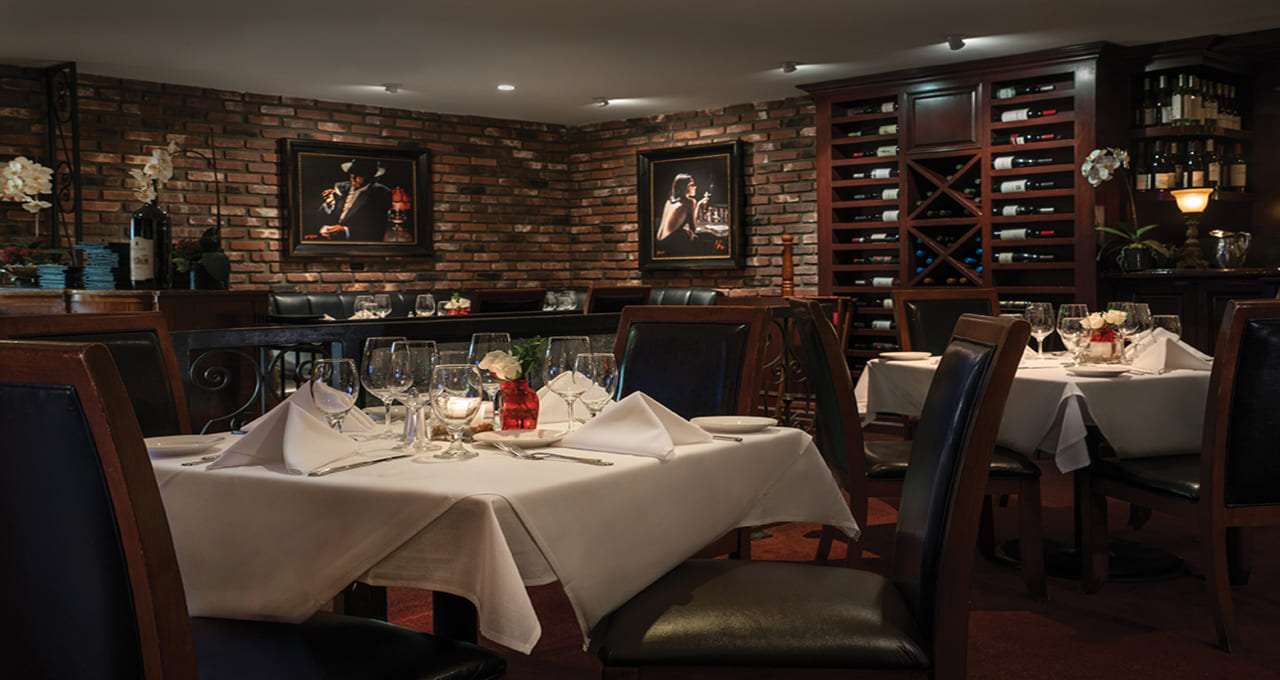 At the corner of Fay Ave. and Silverado St. is where east meets west in this elegantly funky, brick-walled New York-style Italian steak and chop house, complete with terrific live music Wednesday through Saturday.  
Manhattan of La Jolla transports you to the best of New York via cozy cosmopolitan back room booths, where you can still hear the music unobtrusively, or in the main dining room and bar mixing it up with the music loving locals.  Manhattan, an Insiders' favorite, is an elegantly casual surprise. With quality Italian charm, Manhattan offers classic cocktails that get you into that New York swing–and the entrees are as good as it gets. Liberal olive oil, garlic, lemon and pepper complement the Zagat Award winning veal chop, steaks and seafood. Signature scampi, classic cannelloni, pasta al dente, and other succulent dishes, plus professional service and decor make this a terrific spot for a romantic dinner or mixing business and pleasure. Manhattan in La Jolla gets you the best of both worlds. Manhattan is an award winning La Jolla favorite, celebrating its 25th year, and a bright future with the recent addition of Executive Chef Dwayne, fresh from Las Vegas, to their all-star team. Always keen on promoting variety, Manhattan is now serving, not tacos, but prime rib on Tuesdays.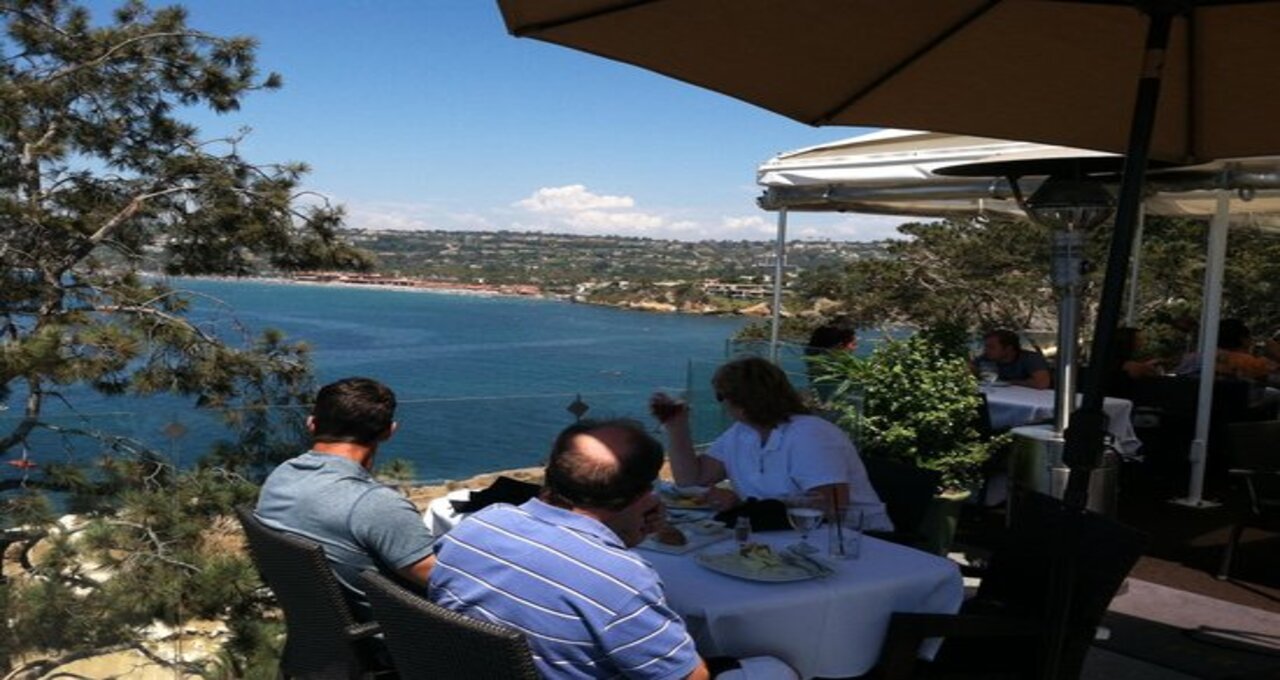 We don't typically endorse restaurant chains, however, in the case of Eddie V's, duplicating a successful formula can only be a win for any community they choose build in, and that especially holds true at their La Jolla location. Their reputation created an instant buzz in 2011 and that excitement has not dissipated, but has only increased.  Eddie V's Prime Seafood and Steak offers some of the best fine dining in La Jolla, especially for seafood lovers. Guests from around the world come for the decadent menu of fine cuisine, hand-crafted cocktails, wine and more. Tourists visit to savor the elegant, ocean-side atmosphere and stunning terrace views enhanced by the live music in the bar, performed by both local and national artists. Getting comfortable happens quickly there, that's the reason they call it a lounge. The menu emphasizes prime seafood creations, USDA prime beef and chops, and fresh oyster bar selections. Signature dishes include New Zealand Barramundi Meuniere-style, Maryland-style All Lump Crab Cake and premium Black Angus Steaks, raw oysters and Pacific Ahi Tuna, made from the freshest ingredients. Located near the La Jolla Coast Walk shopping district, it's an easy glide from shopping to dining.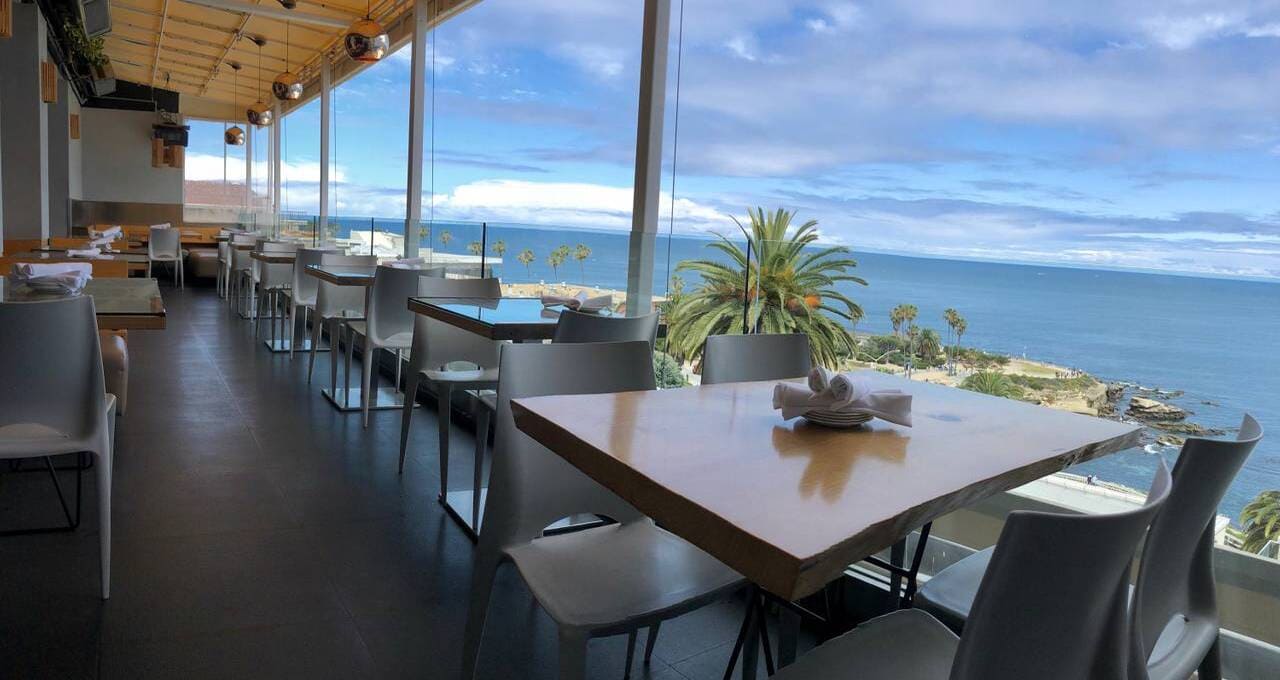 You can either belong in an institution or become one. George's At the Cove, in many Insiders' minds, is synonymous with "La Jolla" because of not only being considered a top restaurant locally, in San Diego, California and nationally and around the world for its gourmet cuisine, beverages and service, but for the immense amount of the owner's community support. For many years, George Hauer funded the annual 4th of July fireworks display at La Jolla Cove, (that in itself would be enough for a spot on the Citizen's Wall of Fame), as well as his service on several community boards.  
George's unique dishes use locally grown ingredients whenever possible and are always innovative; they have a reputation to protect. Among many other honors, Opinionated About Dining (OAD) named it one of the Top 100 Restaurants for 2016 in all of America.
The cuisine is overseen by renowned Chef Trey Foshee; his seafood-centric cooking style can be experienced on every one of this restaurant's elegant three levels of dining spaces (or, four, depending on your perspective): California Modern, the downstairs fine dining area, or the Ocean Terrace, and, literally topping off the restaurant is the outdoor rooftop known for glorious sea views, especially at sunset.
George's at the Cove is a renowned ocean front dining destination located in the heart of La Jolla overlooking the Pacific Ocean and northern coastline. The restaurant celebrates the best of La Jolla's distinct lifestyle with a choice of comfortable environments, and menus that showcase seasonal, local ingredients in fresh, simple preparations. The lower level provides flexible private event space and customizable menus perfectly suited to any occasion, from rehearsal dinners and wedding receptions to birthday parties, anniversary celebrations, and corporate functions. 
It's not just a restaurant, it's also a community center.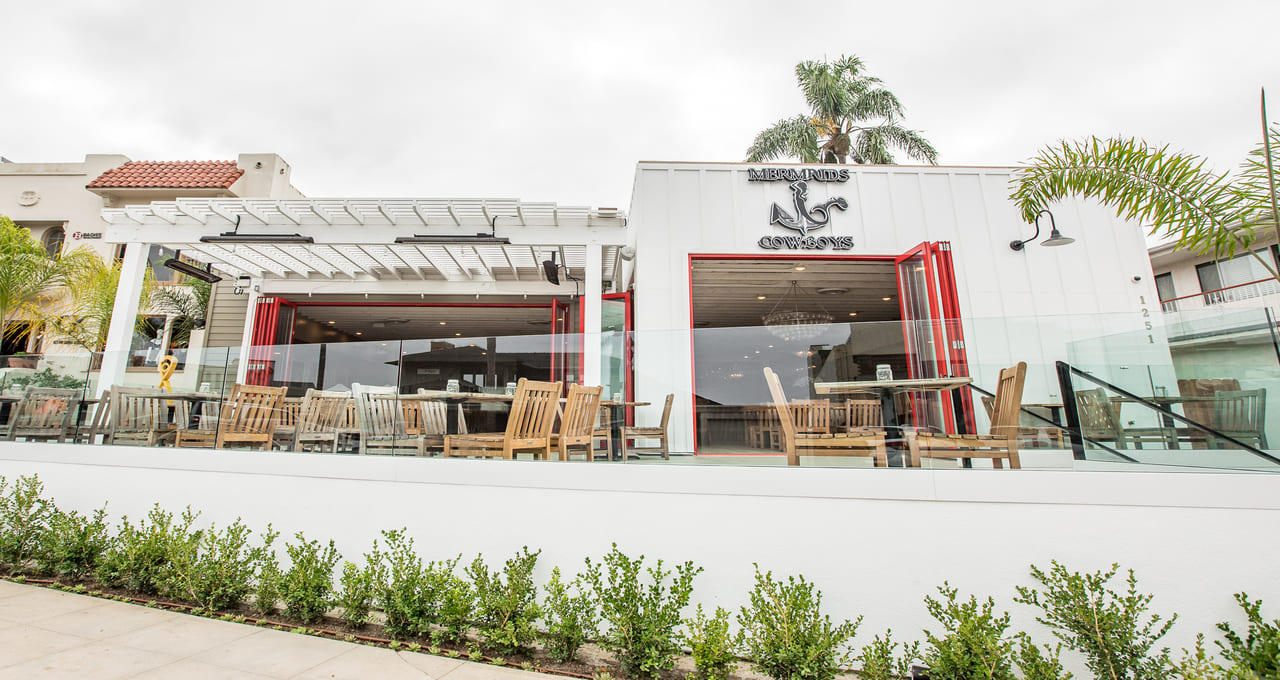 The name of the restaurant could be mistaken for a Pixar animated film title. Owner Michael Matthews explains, "Mermaids & Cowboys marries ocean and land through the rich history of the Pearl Diving Mermaids of Japan and the historic Cattle Ranches of La Jolla.  Mermaids pays homage to the Japanese Ama Divers, who helped to inspire the modern-day mythology of the Mermaid. These female free divers would dive to the bottom of the ocean to gather shellfish to feed their villages; they later became the first pearl divers for the Mikimoto Pearl Company. 
"Cowboys pays homage to the historic ranches of California, from the Tejon Ranch, established well over 300 years ago, to the Carver Bowen Ranch established in 1872. Our restaurant tells a visual story to our diners with our pearl chandeliers, saddle-leather seating booth, teak furniture, and pearlescent fish-scaled bar. The photography on the walls pays tribute to the Japanese Ama Divers and the bold California Cowboys tending their ranch and cattle."
Well, that explains the name, now what can explain the immediate success of a La Jolla's most recent addition to restaurant row, especially opening pre-pandemic and working through the difficulties experienced by all California businesses? Grit, determination and a Las Vegas inspired knack for promotion. 
The concept of Mermaids & Cowboys celebrates the best of both land and sea, or, as Insiders like to say, turf and surf.  Matthews fell in love with the village in 2000, and his dream had been to own a restaurant in La Jolla from that point. When the longtime Alfonso's site became available Matthews grabbed the opportunity and built his dream: a 3,200 square foot restaurant on Prospect.
An accomplished entertainer to entrepreneur, Michael Matthews was an entertainment producer in Las Vegas for two decades.  His office was in the heart of Caesar's Palace and he was surrounded by top drawer restaurants and chefs: Wolfgang Puck, Gordon Ramsay, Guy Savoy, and Bobby Flay, among his connections. "I had the chance to observe and enjoy the talent of these culinary artists, with delectable dishes and incredible presentations.  I was absolutely blown away."   
The final piece was to find Executive Chef Chris Barre (bio includes Pacifica Del Mar, The Fishery, Le Papagayo, Vintana Wine + Dine), which completed the offering. The menu is as unique as the restaurant's, with the intention of Chef Barre to present dishes in a way that have never been offered before in La Jolla. For example, the crab cake is created with bone marrow and served in a hollowed-out bone. The salmon rillette is cooked in fat – similar to preparations at New York's Le Bernardin. 
What's in a name? Now you know.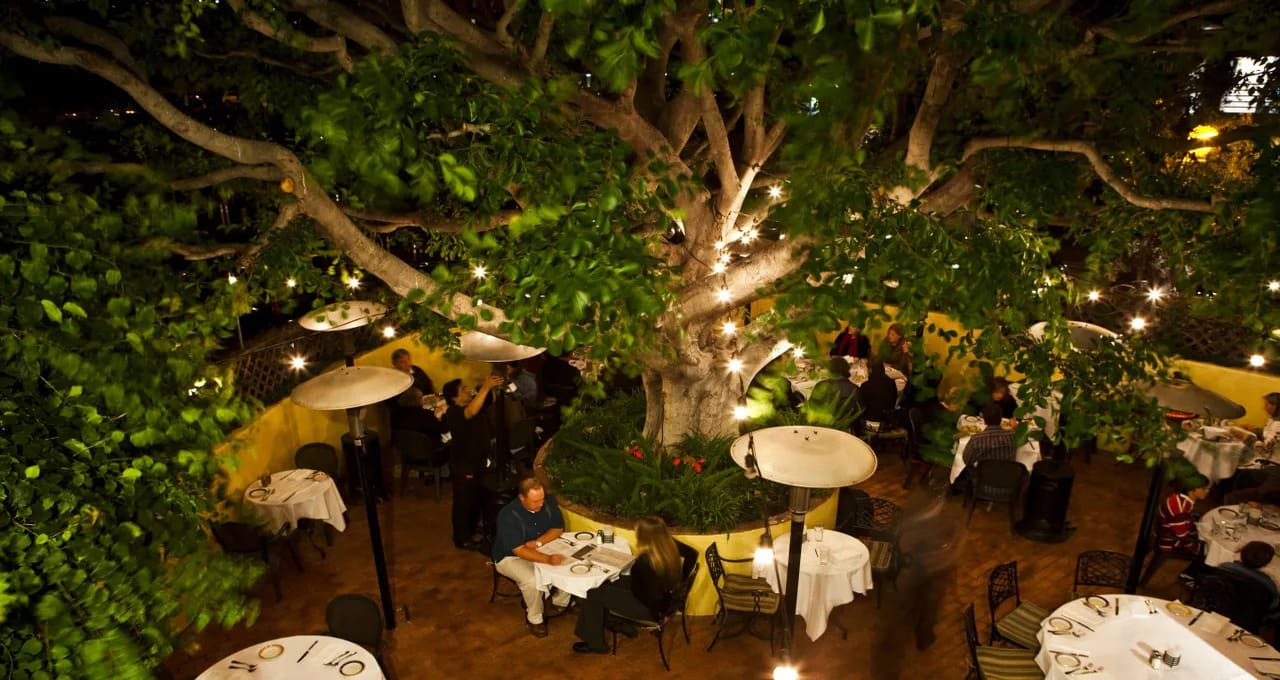 Established in 1987 in the center of La Jolla Shores, Piatti offers a finely crafted fresh Italian cuisine: homey, charming, romantic and traditional. The soul of the menu is their signature house-made pasta that is rolled, cut and cooked by hand every day. Offering a fresh take on the neighborhood Italian trattoria, Piatti combines a warm, inviting atmosphere and seamless service.  
Piatti is perfect for date nights, thanks in part to two leafy outdoor patios, plus candles and string lights galore. It's removed from La Jolla Village by several miles resulting in a patronage mainly comprised of loyal locals who consider this their neighborhood spot. There are also stragglers fresh from the beach at La Jolla Shores, who are lucky enough to happen upon it. There are beer and craft cocktails on the drinks menu, at a traditional Italian spot like this, don't even bother—just skip to the wine section, made up mostly of California and Italian reds. For abstainers a refreshing pomegranate limeade is a tasty option.  
Every dinner needs a starter breadbasket. Instead of butter pats Piatti serves you with an addictive garlic-balsalmic dipping sauce. Be forewarned, you'll need a mint (or a bottle of Listerine) after eating it, and yes, it's worth every drop. Like any good Italian spot, the menu covers classic antipasti like bruschetta and arancini.  Piatti is best-known for its pasta primis, like the saffron pappardelle with shrimp, or the creamy gorgonzola orecchiette with grilled chicken. Second options are pretty standard, like a grilled rib-eye, or a tangy veal scaloppini.     
By dinnertime, this is date night central, or, an equally charming option for a dinner with the parents. During the day, though, it's a little more casual, and a great post-beach option for families young and old.
La Familia! Now, That's Italian.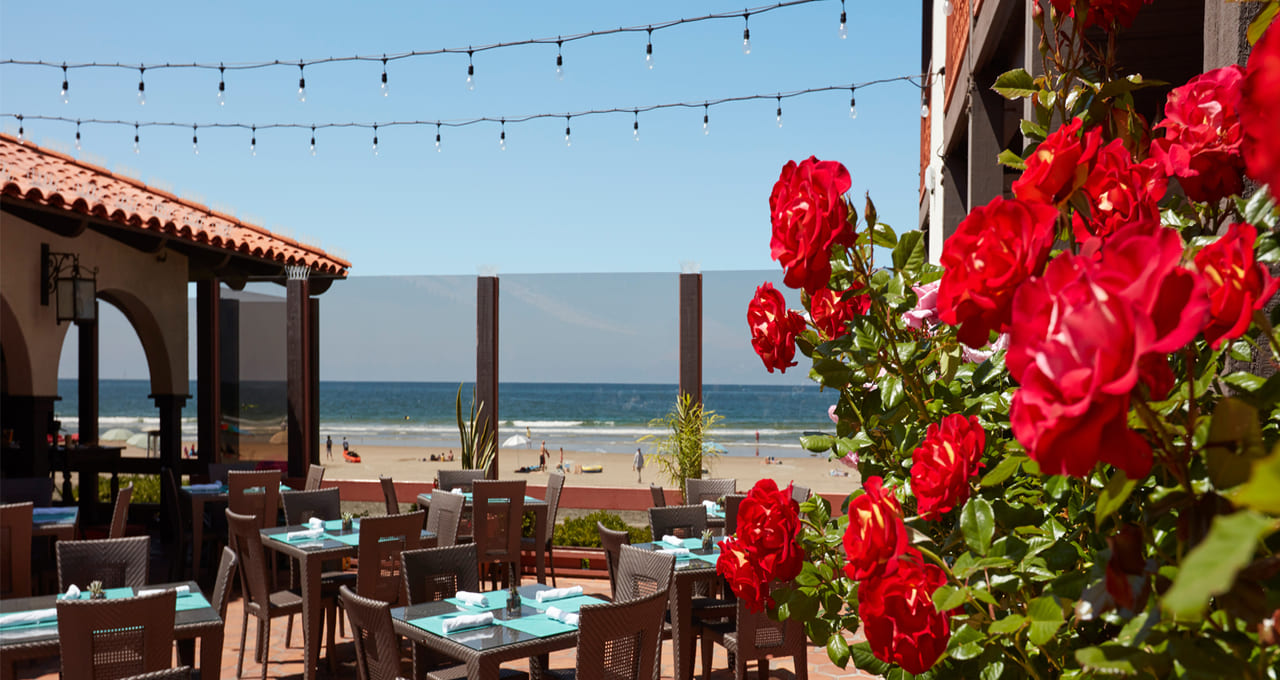 Rounding out our top ten La Jolla restaurants list is this uniquely positioned property – right on the beach. Unlike the Marine Room, you can directly access the sand for an after dinner stroll; if you time it right you can catch a sunset before your reservation, or work off a few calories after dessert. 
Located within the hacienda-style La Jolla Shores Hotel, The Shores shares a celebrated reputation with the three-story, Spanish-style hotel property. 
Beachside views and a laid-back, family-friendly vibe complement freshly-prepared dishes, a happening happy hour, and a California coastal-inspired menu with representation from land and sea. Under the culinary craftsmanship of Chef de Cuisine, The Shores Restaurant continues to live up to the hype as one of the best restaurants in La Jolla. Their award-winning menu has a mix of seasonal and local selections using Southern California's year-round fresh produce for high-quality flavors courtesy of the best local providers in San Diego and beyond. The Shores Restaurant's seasonal menus offer something special for every palate: Ahi Tuna Wontons, Black Mussel Steamers, Baja Fish Tacos, and Craft Burgers.
Pair your meal with well-mixed cocktails, craft beers, or local wines.
Dine savoring your plate, with views of the nearby blue Pacific and La Jolla Cove during lunch, dinner on their spacious oceanfront patio where they welcome you to sample fresh seafood and a sustainable, California coastal-inspired menu. 

At the Shores, the surf is always up and only steps away.